If you make it to St. Louis, stop by Puddn'head Books' new location. Authors are tagging up their bathroom walls.
Thank you to the awesome staff! And for this awesomely delicious cake: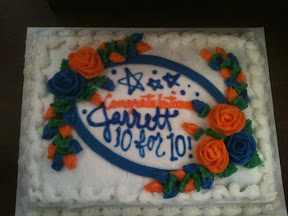 And great big thanks to school librarian Melissa Biehl for getting me out there! She went above and beyond the call of duty. Aside from getting me to the airport for my 6 a.m. flight, she arranged for former students from her from comic book club, who had since graduated to junior high, to return to school to meet me. Amazing, right?!
Here are some of the great projects her students made.